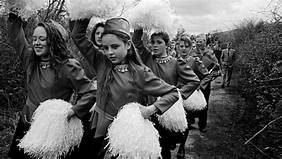 Walking the border between the Republic of Ireland and Northern Ireland on the eve
of the controversial Anglo-Irish Agreement was an extremely brave, and some would
suggest foolhardy, undertaking but it is one that photographer Tony O'Shea and
novelist Colm Tóibín embraced with spirit for the 1987 book Walking Along the
Border.
"Working with Colm on Walking Along The Border had made me a little bit more
aware of the significance of the border to local people, how it means something
concrete. Whereas, in Dublin, it's something of an idea", O'Shea tells Murmur. "I
was photographing various aspects of republicanism and, rightly or wrongly, I saw it
as part of it".
Biography:
O'Shea is one of Ireland's most respected photojournalists. His work has appeared in
a wide variety of newspapers and magazines including the Sunday Business Post, Sunday
Times magazine, the Guardian, In Dublin and Libération. 'Bad Blood: A Walk Along the Irish
Border' by Colm Tóibín with photographs by Tony O'Shea was published in 1987 by
Macmillan. His book 'Dubliners' is one of the most respected photo books from the 1990's.
Most recently his work 'Border Roads', 'Italia 90' and 'Never Forget' and Italia has been
published as a series of Café Royal books. Tony O'Shea is currently artist in residence in the
Gallery of Photography's artist digital studio where he is digitizing his extensive archive.